LATEST INFORMATION & NEWS
New balance illustrations available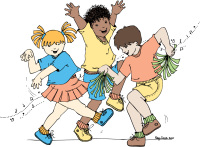 Take a look at my brand new series of exciting full color balance illustrations. Old favorites have now also been updated ! Everything from music to balance illustrations can now be downloaded to make it easier and quicker for you to access.
It's new... it's exciting... and it's educational
Are you new to the magical world of movement and music?
Have you ever wanted an idea to extend a child initiated interest?
Or simply just needed refreshing new ideas? Well... here is the solution!
Creative Capers Lesson Plans and ideas offers loads of original movement and music focused activities for you to download and use in your own environment. You can simply select an idea or activity from the Creative Capers Lesson Plans to suit your program or the children's needs. See the ABOUT THE LESSON PLANS for more information and enjoy the creativity and fun.