LATEST INFORMATION & NEWS
My new, innovative, easy to use website design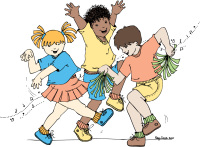 I hope you enjoy browsing through my new website. I have now combined my www.creativecapers.com.au and www.robyncrowe.com websites for easier viewing and access into this one exciting website. There is now a new LESSON PLAN category available for educators and parents as well as my regular resources. Take your time to view it and enjoy!
More Lesson Plans added regularly....this is only the beginning!
It's new... it's exciting... and it's educational
Are you new to the magical world of movement and music?
Have you ever wanted an idea to extend a child initiated interest?
Or simply just needed refreshing new ideas? Well... here is the solution!
Creative Capers Lesson Plans and ideas offers loads of original movement and music focused activities for you to download and use in your own environment. You can simply select an idea or activity from the Creative Capers Lesson Plans to suit your program or the children's needs. See the ABOUT THE LESSON PLANS for more information and enjoy the creativity and fun.