About Creative Capers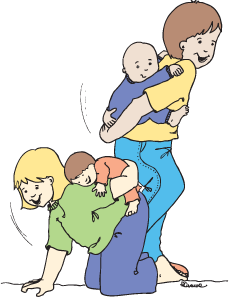 EXCITE, EXPLORE, EXPERIENCE, EXPRESS, EDUCATE
Excite the children with the program content and equipment, encourage them to explore, experience and freely express themselves as well as educate them indirectly through the fun and pleasure they are having.
Robyn Crowe's Creative Capers is not simply an activities program to entertain children, but is designed with specific developmental and learning outcomes.
Creative Capers exposes children to the enormous learning benefits of movement, music and other related creative experiences, enhancing vital development and coordination of the brain and the body.
LESSON PLANS
Robyn Crowe - Creative Capers lesson plans incorporate dominant movement patterns, concepts and themes, body awareness, co-ordination, spatial awareness and orientation as well as language and numeracy experiences, enhancing physical, intellectual, emotional, cognitive and social development.
This all occurs in wonderfully original ways involving movement, dance, songs, musical instruments, drama, storytelling, story reading, hand apparatus, chants, poems, finger plays, puppets, dress ups, classical, cultural and contemporary music experiences, props and equipment... and incorporating lots of imagination, expression and visualisation.
Learning occurs through the creative presentation of activities and through the fun and enjoyment of the varied experiences.
MUSIC AND SONGS
Original music, poems, chants, stories and songs have been specifically written for the Creative Capers program. All are exciting, age appropriate and varied in sound, rhythm and experiences.
The songs have been written especially for children by qualified teacher Robyn Crowe, talented singer/song writer Kate Hanratty and young singer Sian Crowe, with the focus of the songs enhancing movement, co-ordination, musical awareness and brain patterning.
Samples of music:

Please click on the track name below to listen to a 30 second sample of each song. Please note that it may take a few seconds after you click for the music to begin.
Track 29 - Little Yellow Bee (song)